"Children are fantasising, grown-ups are standin' by, what a super feeling! Am I dreaming?"
"Um conto de Inverno". Chegados ao primeiro dia de Inverno, hoje vou falar de um dos mais poderosos temas sobre esta estação: o fabuloso "A Winter's Tale" dos Queen.
A verdade é que "A Winter's Tale" é muito mais que uma "Um conto de Inverno", muito mais que um tema natalício.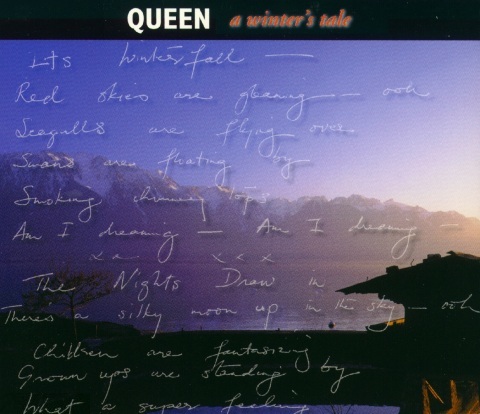 "A Winter's Tale" foi o último tema jamais escrito por Freddie Mercury e foi também o último tema que ele cantou antes da sua morte, dia 24 de Novembro de 1991.
As sessões de gravação dos Queen em 1991, que resultariam no álbum póstumo de 1995 "Made In Heaven", foram alguns dos mais impressionantes capítulos da História da música.
No ano de 1990, a condição de Freddie já era de tal forma debilitada, que ele temia não terminar a tempo o álbum "Innuendo", que seria lançado no início de 1991. "The Show Must Go On" seria supostamente o último tema dos Queen, uma vez que ele não acreditava ser possível trabalhar mais no seu estado. Completado o processo de gravação e promoção deste álbum (para o qual Freddie ainda se sujeitou à filmagem de alguns videoclips), Freddie decidiu que até ao seu último suspiro, iria cantar... e gravar o máximo que pudesse, com o tempo que lhe restava.
Freddie terá então dito aos restantes membros dos Queen:
"Deêm-me qualquer coisa, o que quer que seja, que eu canto!"
Nos meses que se seguiram, os Queen instalaram-se nos
Mountain Studios
em Montreux, à espera de Freddie. Freddie esteve este tempo entre Londres e Montreux, entre casa e os consultórios, aparecendo em estúdio sempre que se sentia em condições mínimas para entregar a sua voz à música dos Queen.
E de que maneira o fez...
Esta é a história de um homem gravemente doente, severamente debilitado nas suas capacidades mais básicas, debaixo de dores terríveis, mas que mesmo assim cantava com um poder inabalável, com uma emoção visceral, como se fosse a última vez que estaria em frente a um microfone.
No caso de "A Winter's Tale", foi mesmo a última vez... No dia 12 de Novembro de 1991, Freddie interrompeu a sua medicação (cuja reacção o impedia de executar dignamente funções básicas como comer e beber) e deslocou-se pela última vez aos estúdios de Montreux, para gravar o
take
definitivo de "A Winter's Tale".
Foi a última vez que o
Rei
cantou para um microfone.
Dois dias depois, Freddie regressaria a Londres para passar tranquilamente os seus últimos dias com a sua família e na sua casa, onde acabaria por falecer 10 dias mais tarde.
(Dreaming) So quiet and peaceful
(Dreaming) Tranquil and blissful
(Dreaming) There's a kind of magic in the air
(Dreaming) What a truly magnificent view
(Dreaming) A breathtaking scene
With the dreams of the world
In the palm of your hand
"A Winter's Tale" foi assim o último tema de Freddie Mercury. Um tema cheio de imagens de beleza, de paz e tranquilidade, algo que nada tem a ver com a dor que sentia na época. Sob o peso podre e insustentável de uma doença maldita, Freddie conseguiu completar a letra e a melodia deste lindíssimo tema.
It's all so beautiful
Like a landscape painting in the sky, yeah
Mountains are zoomin' higher, uh
Little girls scream an' cry
My world is spinnin' and spinnin' and spinnin'
It's unbelievable
Sends me reeling
Am I dreaming
Am I dreaming...?
Num só
take
(aquele que ouvimos no disco), algo raríssimo na sua carreira, Freddie despejou tudo o que tinha e despediu-se dos ouvintes com "Um Conto de Inverno". O seu Inverno. O Inverno da sua vida. Um Inverno que foi penoso, mas tranquilo; doloroso, mas em paz; prematuro, mas
glorioso
. Com a glória que só o
Rei
poderia desfrutar.
"It's bliss!"