"A spitting image of me, except for the heart-shaped hole where the hope runs out"
Foi preciso chegar o 2º mês de 2014 para eu descobrir o melhor álbum de... 2013. Dizia-me um amigo que eu tenho andado a dormir. Tinha razão. Para deixar escapar "...Like Clockwork", só podia mesmo andar a dormir.
Honra seja feita à
Rita
- a amiga em quem eu mais confio para me apresentar
música nova
(recente, ou não). Ela raramente falha e aqui, acertou em cheio.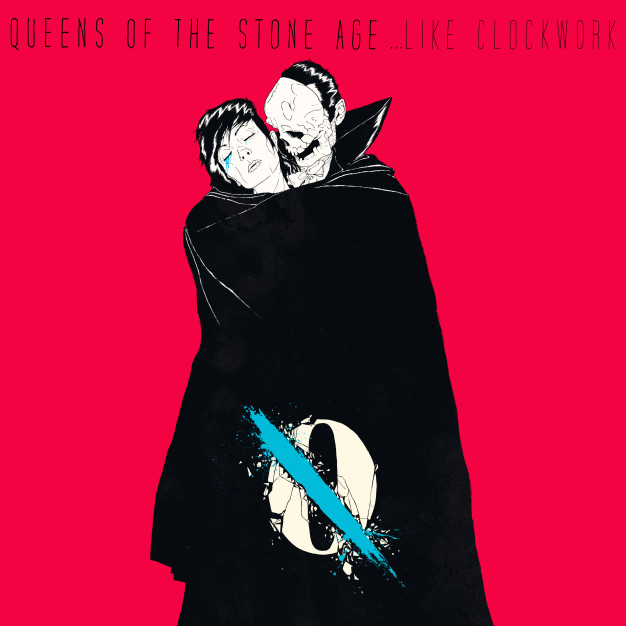 Faz agora uma semana, desde que ela introduziu o tema "I Appear Missing" na minha órbita e desde aí, fiquei
agarrado
.
Para terem uma ideia da dimensão do impacto sobre mim, segundo os registos do
iTunes
, já ouvi o tema mais de 30 vezes, isto sem contar com as visualizações no Youtube. Mas não ficamos por aqui: o meu mergulho no álbum mais recente dos Queens Of The Stone Age foi total e segundo os referidos registos, já foi ouvido na íntegra pelo menos 15 vezes. O frenesim absoluto, portanto.
Já não tinha um entusiasmo tão grande por um álbum novo
desde 2011 e "Noel Gallagher's High Flying Birds"
.
Para Josh Homme - o vocalista, letrista e força motriz dos Queens Of The Stone Age - "...Like Clockwork" foi o produto de um processo de gestação muito complicado.
Para percebermos melhor a génese deste álbum, um pouco de História
(esta foi também uma semana de estudo)
: desde 1998 até 2009, entre os QotSA, os Eagles Of Death Metal (que me foram apresentados como
Pigeons Of Shit Metal
através de
um dos famosos rants de Axl Rose
), os Them Crooked Vultures (que juntou Josh a Dave Grohl, dos Foo Fighters e John Paul Jones, dos Led Zeppelin) e os The Desert Sessions (que juntou Josh a um sem número de artistas, num projecto experimental), Josh lançou pelo menos um álbum por ano. Este ritmo de trabalho alucinante é inusitado nos dias de hoje e só comparável aos históricos artistas Rock nos anos 60 e 70. Porém, desde 2009, só se tem ouvido silêncio do músico californiano.
Em 2010, complicações durante uma operação ao joelho deixaram Josh Homme agarrado à cama durante 3 meses, atirando-o para uma depressão profunda. Consta que Josh terá até ponderado retirar-se da música.
O que se passou entre 2010 e Agosto de 2012 - quando os Queens Of The Stone Age regressaram ao estúdio para gravar este álbum - ninguém sabe ao certo. Mas terá sido esse o tempo que levou Josh Homme a marinar um audaz lote de canções, do mais catártico, profundo, honesto e revelador que já ouvi. Falo em audácia, porque contrariando a postura alfa que o caracteriza, Josh abre o livro neste álbum e mostra-nos os capítulos mais obscuros da sua vida.
"...Like Clockwork" documenta a
dobra
de Josh Homme. Isto não é Rock pelo Rock, é
Rock pela redenção
, é Rock pela salvação da sanidade mental.
É aqui que "...Like Clockwork" fala fundo e bate forte no coração do ouvinte. No meu bateu com certeza e bateu com toda a força.
"Where are you hiding, my love? Cast off like a stone.
Feelings, raw and exposed when I'm out of control."
Também não sei o que se terá passado entre Josh e a sua mulher nesta época, mas boa coisa não pode ter sido. Se em "I Appear Missing", Josh descreve as suas lutas internas e os seus problemas de identidade, o que se ouve em "I Sat By The Ocean" parece induzir que a depressão que caía sobre Josh terá cavado uma distância entre ele e a sua mulher.
"Boy if you want love, you'll have to go find it with someone new.
Do you know who you really are? Are you sure it's really you?
Lies are a funny thing.
(...)
Silence is closer"
Quem escreve assim não anda na música para brincadeiras.
Este ângulo mais pessoal imprimido por Josh Homme foi acompanhado por uma abordagem mais melódica à música dos Queens Of The Stone Age. Certamente mais melódica do que aquela que os fãs estavam habituados, pelo que "...Like Clockwork" não foi recebido com o entusiasmo que merecia.
O processo de gravação do álbum foi, também ele, muito atribulado, com o baterista da banda Joey Castillo a ser despedido e substituído em metade das faixas por Dave Grohl. Para além de Grohl, o álbum conta ainda com as paticipações especiais de Trent Reznor (Nine Inch Nails), Alex Turner (Arctic Monkeys) e... Elton John. Exactamente,
the legend himself
, o enorme Elton John também está aqui e definiu "...Like Clockwork" como um dos melhores álbuns
Indie Rock
(o que quer que isso signifique) de todos os tempos.
Pela minha parte, enquanto tento evitar os superlativos absolutos
(defini para mim próprio limitações nesse sentido, à falta de programas de reabilitação para o efeito)
, sem rodeios vos digo que estamos na presença de um álbum
fenomenal
, que condensa várias dimensões, musicais e emocionais, do melhor que o Rock nos pode proporcionar. Obrigatório.
Bastou-me uma audição para ficar completamente rendido a "...Like Clockwork". Imediatamente percebi que este foi,
hands down
, o melhor álbum de 2013
(vá, os superlativos absolutos ainda valem)
. Essa é uma característica das grandes obras-primas: é fácil reconhecê-las.