"I was happy in the haze of a drunken hour, but heaven knows I'm miserable now"
Ainda os
The Smiths
e ainda o imbatível
legado musical britânico
. Hoje para um pequeno paralelismo entre duas bandas britânicas
pivotais
, nos anos 80 e 90: os The Smiths e os Oasis, respectivamente. E também para um mais que merecido reconhecimento da indústria musical, para com um dos ícones da música do Reino Unido.
A influência dos The Smiths na música britânica é imensa. Todo o Rock alternativo que apareceu a partir de meados dos anos 80 na
Grande Ilha
tem qualquer coisa de Smiths. Na música e no estilo. Basta olhar para Noel Gallagher, guitarrista dos Oasis - banda britânica "chave" dos anos 90 - para se perceber a analogia.
Desde o penteado até à escolha da guitarra - a
Gibson ES-355
- Noel Gallagher fez questão de imitar Johnny Marr, um dos seus heróis:
Noel começou a utilizá-la em 2002, na digressão de promoção ao álbum "Heathen Chemistry" e desde então que se tornou na sua guitarra de eleição.
Já antes disso, Johnny Marr tinha servido como uma espécie de mentor dos Oasis, oferecendo uma
Gibson Les Paul Sunburst
a Noel, antes da gravação de "Definitely Maybe", bem como estadia livre num dos seus apartamento em Londres. Os tempos eram outros, na altura Noel estava à procura de sucesso e não tinha dinheiro para usufruir de luxos como uma
Les Paul
. Johnny teve fé em Noel e apostou nele.
O problema é que o mau feitio de Noel foi descarregado na lindíssima
Les Paul
, quando um fã dos Oasis invadiu o palco em Newcastle, em 1994, e Noel o "aviou" com a guitarra, destruindo-a. Sem a guitarra de Noel, a digressão dos Oasis estava em risco e foi aí que Johnny interveio novamente, oferecendo mais uma
Gibson
a Noel.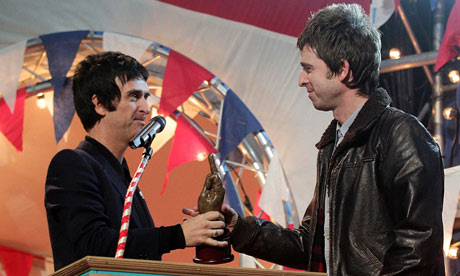 A propósito da sua nomeação, este mês, para o prémio
Godlike Genius
da revista NME (prémio que, curiosamente, foi entregue a Noel Gallagher no ano passado por... Johnny Marr), Marr pegou na lendária guitarra
Gibson ES-355
e contou a história de como ela foi parar originalmente às suas mãos:
No vídeo, Johnny Marr conta a história do dia 2 de Janeiro de 1984 - o dia em que lhe chegou às mãos a icónica
Gibson ES-355
e em que escreveu o êxito dos The Smiths "Heaven Knows I'm Miserable Now".
Umas semanas antes, quando os The Smiths iam assinar com a
Sire Records
, para a distribuição dos seus discos nos EUA,
Seymour Stein
(presidente da editora) levou a banda a jantar. No meio de uma série de histórias do meio musical, Seymour contou que uma dia tinha comprado uma guitarra a Brian Jones dos Rolling Stones, em Nova Iorque. Johnny viu aí uma oportunidade de lucrar com isso e disse que se o levasse também a Nova Iorque para comprar uma guitarra, como fizera a Brian Jones, que os The Smiths assinavam com a sua editora. Num momento de fraqueza, Seymour concordou e no dia 2 de Janeiro de 1984, Johnny e Seymour foram à Rua 48, em Nova Iorque, para cumprir a promessa. Já cansado de esperar e com medo da hora tardia, mesmo antes do fecho das lojas, Johnny Marr escolheu a icónica guitarra vermelha
Gibson ES-355
. A mesma guitarra vermelha onde escreveria, nessa mesma noite, no hotel, "Heaven Knows I'm Miserable Now" e "Girl Afraid".
"Heaven Knows I'm Miserable Now" foi lançado em
single
em Maio de 1984 e atingiu o 10º posto nas tabelas de
singles
britânicas - a posição mais alta durante o tempo de vida dos The Smiths. O tema seria mais tarde incluído na compilação
"Hatful Of Hollow"
.
No vídeo em cima, Johnny pega na
Gibson ES-355
e toca os acordes de "Heaven Knows I'm Miserable Now", tema que já não tocava há 25 anos. Muito tempo passou, mas a música dos The Smiths (principalmente dos primeiros anos) continua fresca, parece nada ter envelhecido.
Enquanto houver um adolescente deprimido, trancado no seu quarto, com necessidade de carpir as suas mágoas, a música dos The Smiths será sempre actual.